Kick Starter
This was a bit tricky, I need some FB help to verify my assumptions.
As far as I understand this is the correct assembly of the kick starter.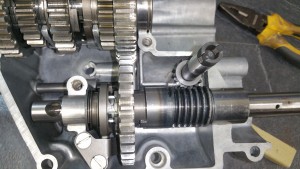 The oil guide hole (3 in the drawing below) is facing upwards and the kick starter is in contact with the kick starter quide 4.
In this position the motor can run and the kick starter is in released position, free from any contackt with the gears. See the next picture.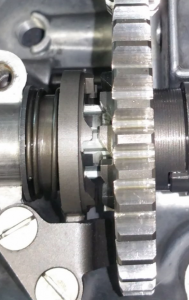 No contact with the gears.
So far so good, but now it all fells apart ? Map and terrain does not fit anymore.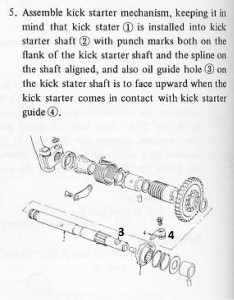 In all manuals and also on the DVD from the Kettle clinic it shows a punch mark on the starter shaft and the spline on the shaft. They have to be aligned. If I do so it all comes out wrong and the oil guide is not longer facing upward when the kick starter is in contackt with the kick starter guide.
It looks like it's only a punch mark on the kick starter shaft on my bike. The second mark is difficult to find. There are som scratches and a groove but nothing like a punch mark. See the next picuture. (click on the image for details)

If I align according to the orange arrow the facing of the oil guide hole comes out wrong.
Compare the assembly against the instructions at the DVD.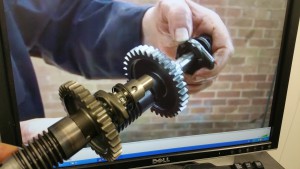 If I don't care about the punch mark and try to mount according to the DVD from the Kettle Clinic it looks alright. The oil guide will face upwards as it should when the kick starter is in released position ( disconnected from the gears )
Please give me some feedback about this issue.  When I'm 100% sure it's all correct I might post a video showing the entire sequence of the kick starter in action.