GT 380 Crankcase and cylinders
Cleaning :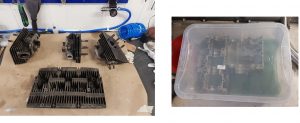 All parts were laid in a bath of pure paraffin overnight to loosen up the old burned materials.
Thereafter, cleaning with a brush and flushed with water.
Powder blasting: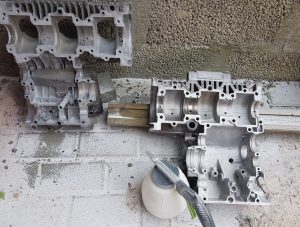 The powder blasting came out pretty well, but it's messy, powder all over the place, everywhere. Inside my body as well… The biggest benefit is clear, no dangerous particles to damage the engine. It's baking soda and can be flushed away. The moste resistant parts are hard to get off with only powder blasting and the finish of the alu parts get's not that nice using powder.
Since I already have invested in a sandblasting cabinet I decided to stop the messy powder thing and loaded up the cabinet for glass blasting.
Glass blasting:
As always on my blog, click on the images for a more detailed view.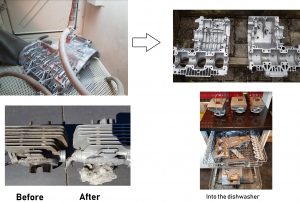 Much cleaner and more fun to do the glass blasting. The biggest issue will be to be to get rid of all the glass particles. Rinsing in water and blow dry with compressed air is important.
Coating with oil: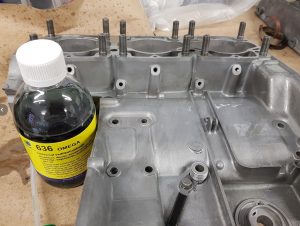 The parts looks shiny and nice after glass blasting but will soon start to oxidize. I was recommended to use a good penetrating oil, like Omega 636 to preserve the crankcase. Let it soak for one day before drying off.
And again, blow very well using compressed air to get rid of all remains from the blasting media.
So much more fun to start the assembling of the engine when all the parts are cleaned and shiny.  🙂  🙂