GT 380 Fork
Fork:
Hmm, a bit confused… Looks like the parts inside the fork is a mix of L and K (J) model ? Not sure, but both inner legs must be replaced with new ones. Marks and scratches on both.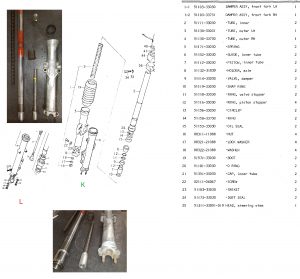 At the moment I have ordered one of the inne tubes, 5111-33030. This is a hard to find part. Not sure if I can swap to later models. The lower part, the oute tube must be the J or K model because of the drum brake.
Sanding and polishing the outer tubes: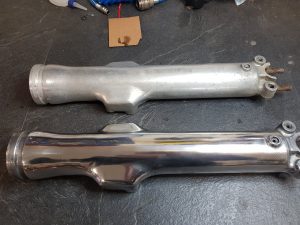 Lamp head , fork bracket parts:
What I did with the shiny parts: Sandblasted the rust at the inner side and painted. Cleaned and polished the outer part. One of the chromed parts was too bad to be cleaned. I had to turn off some metal using my lathe, sanded and polished well before I nickel plated the part. All the old chrome must be removed before the nickel plating.